Donor Advised Funds: Your $110 Billion Best Friend
(Part 1 in the 2-Part Legacy Giving At Lunch Spring Discussion Series)
Tuesday April 30 at 12:00-1:00 pm (CDT)
Leave a Legacy MN is pleased to announce our spring line-up for the Legacy Giving at Lunch web-based learning series. Each Legacy Giving at Lunch is a free, one-hour learning opportunity you can plug into from your desk. Join us for the full series or just the sessions that fit with your schedule and download the recordings online.
Everywhere you turn, people are talking about Donor Advised Funds. They've been popular for several years, but lately they're really hitting their stride. The recent tax law changes have raised a renewed interest in these powerful creatures due to "bunching."
Donor Advised Funds also stir strong feelings and heated discussions within the nonprofit community. Much of this heated discussion happens because until now fundraisers have seen DAFs as competition for charitable dollars, rather than a gigantic source of potential donations. Let's take a critical look at DAFs and discover exactly why I call them "Your $110 Billion Best Friend."
Learning Objectives:
Learn exactly WHY Donor Advised Funds have become so popular.
Learn HOW Donor Advised Funds work.
Learn HOW to start fundraising FROM Donor Advised Funds.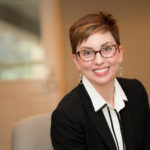 Presenter: Dana J. Holt
, JD RICP AEP, CEO & Philanthropic Strategist, HOLT Consulting
Dana is a charitable gift planning educator, coach, and professional speaker. She teaches fundraisers how to raise millions more by accessing wealth, not just cash – and teaches advisors how to grow their practice with the power of philanthropic planning.
Before starting HOLT Consulting Dana began her career as an estate planning attorney and then spent 13 years at a Fortune 300 Financial Services company. There she helped advisors all over the U.S. with their most complex cases and taught them how to integrate charitable planning into their practice.
Now she focuses exclusively on teaching charitable planning through professional speaking and her first-of-it's-kind coaching program, Turning Wealth Into What Matters™.
Dana is a graduate of Mitchell Hamline School of Law and Southern Illinois University. She lives in Lauderdale, MN with her two retired racing greyhounds.
---
Gifts You May Have Never Considered: Accepting Crops, Cows, Cabins and More!
(Part 2 in the 2-Part Legacy Giving At Lunch Spring Discussion Series)
Tuesday May 14 at 12:00-1:00 pm (CDT)
In 2017, $1.85 trillion in assets changed hands through mergers and acquisitions. Private business owners (18.3 million Americans) represent a large portion of that transition, 79% of whom identify as philanthropic.  Donations of noncash assets such as real estate, tangible property and privately held stock have become assets donors commonly explore donating to charity.  This session will explore how to help business owners convert their illiquid interests into philanthropic capital.
Case studies will include:
A $4 million gift of a single-member LLC interest holding commercial real estate in Wisconsin
A $800 thousand gift of an LLC interest holding commercial real estate in Minnesota
Gifts of farm machinery, artwork, grain and more
Learning Objectives:
Why business owners give charitably, what motivates them, and how that might alter the fundraising approach
The most important things to think about with donors considering giving a business interest or other non-cash asset
Which vehicles and strategies work the best for gifts noncash assets
Presenter
Eric Joranson, Senior Director of Development, Complex Assets, National Philanthropic Trust
Eric Joranson is the Senior Director of Development, Complex Assets for
National Philanthropic Trust. Eric joined NPT in 2016. He is a former practicing attorney with 13 years of combined experience in advanced charitable planning and law practice. Eric has extensive technical experience helping donors contribute complex and illiquid assets, such as privately held stock, real estate, private equity and hedge fund interests. Eric obtained his juris doctor in 2006, graduating cum laude from Hamline University School of Law in St. Paul, Minnesota.
---
Legacy Giving at Lunch Discussion Series
A Series on Legacy Giving for Nonprofit Superstars Who Do It All
Presented by Leave a Legacy, MN – a program of the Minnesota Planned Giving Council
If you are a busy Executive Director or Development Director, the idea of adding one more thing to your plate can feel overwhelming. Yet, you feel the urgency to position your organization so that donors may remember you in their estate plans.
We are here to help you get started on a planned giving effort. Hear from our featured guest experts, ask questions, and exchange ideas with your colleagues across the state.
This is a FREE offering supported in part by our friends at the Initiative Foundation, Northwest Minnesota Foundation, West Central Initiative, Southern Minnesota Initiative Foundation, and Southwest Initiative Foundation.